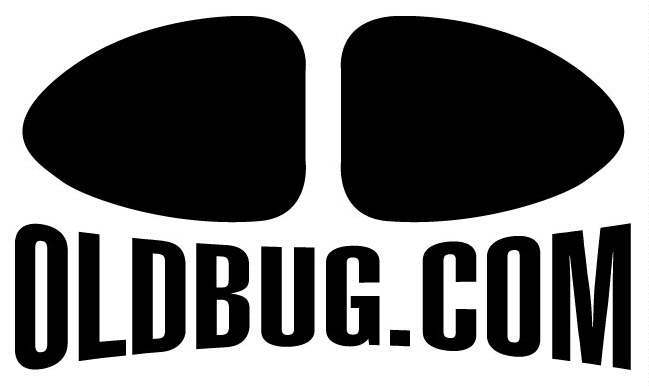 1968 VW Beetle For Sale
---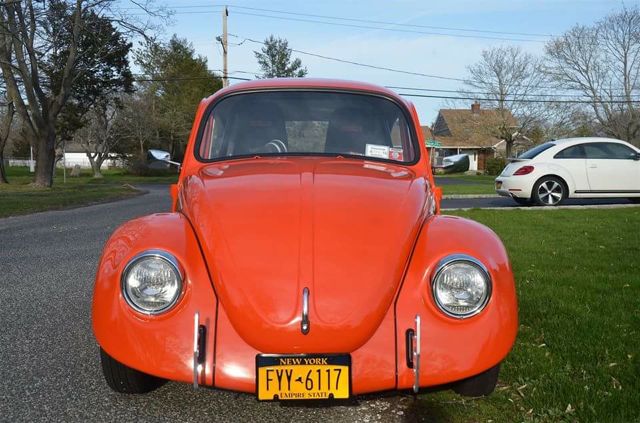 This New York based Beetle has a unique attribute that truly sets it far apart from the norm.
Oh sure...its color is eye catching and the T bar bumpers give it a cool custom look as does the shaved hood chrome
and turn signals. Super clean looker...but there is more to it than that.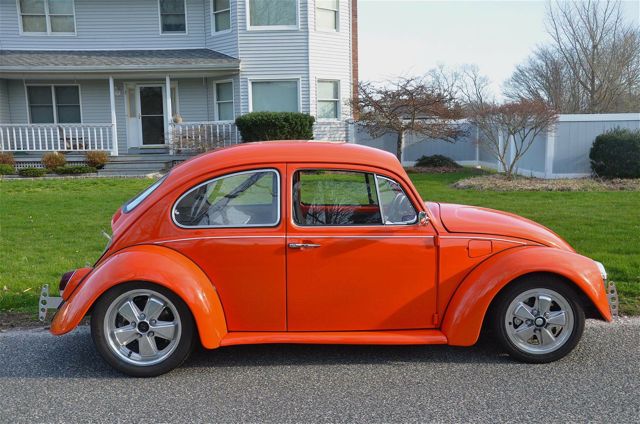 From the side it fairly normal.
The "big and little" combination of th Porsche alloys front to back is pretty cool.
The T bars as you can see from this angle are all custom stuff.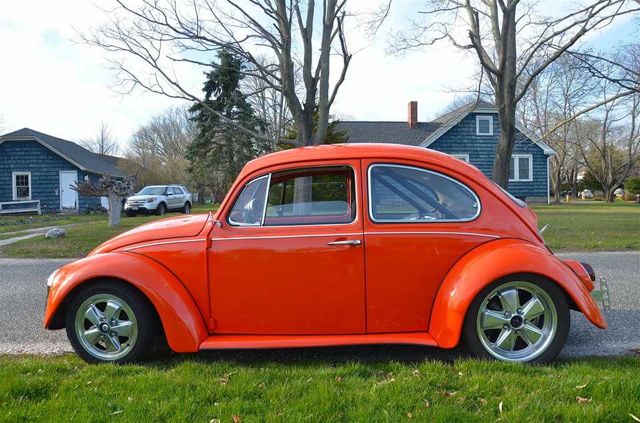 If you look closely you might catch the roll bar inside and those rear fenders look like they might be a little wider
than original...slick running boards that flare out a bit at the back to meet the wider fender.
Looks super clean too...nice car.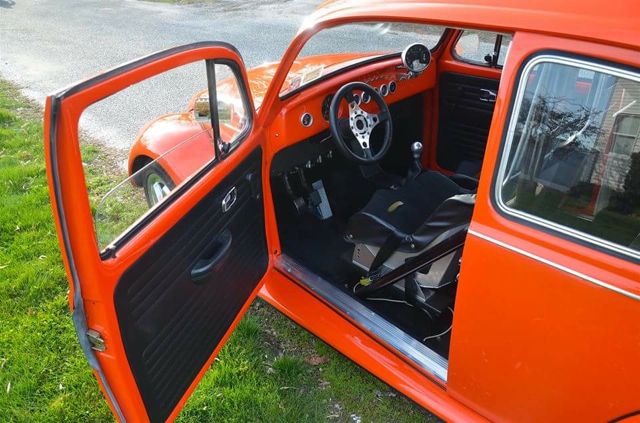 A peek inside shows some custom touches that we have seen before of course...dash mods and added instruments.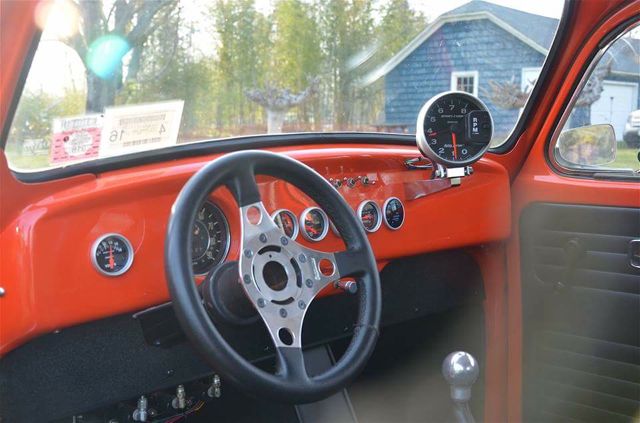 Cleanly done dash and a full array of instruments.
The under dash panel and the things it conceals look a little curious.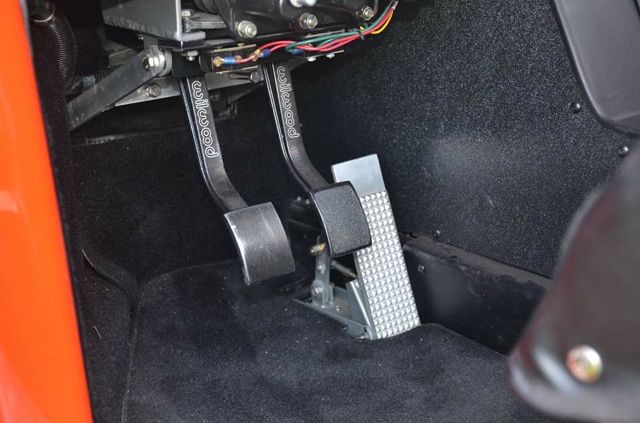 A peek down below reveals the Wilwood pedal assembly and some tidy custom fabrication
involved with getting that in there. Carpet is finished really nice in here as well...definitely a detail oriented build.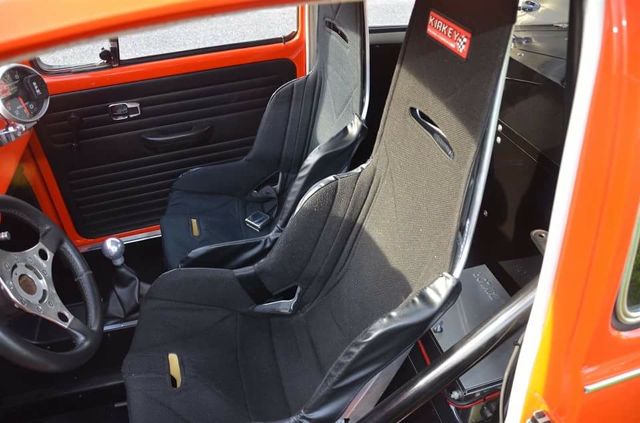 The Kirley racing seats look pretty serious for what at forst glance seems to be a normal street car.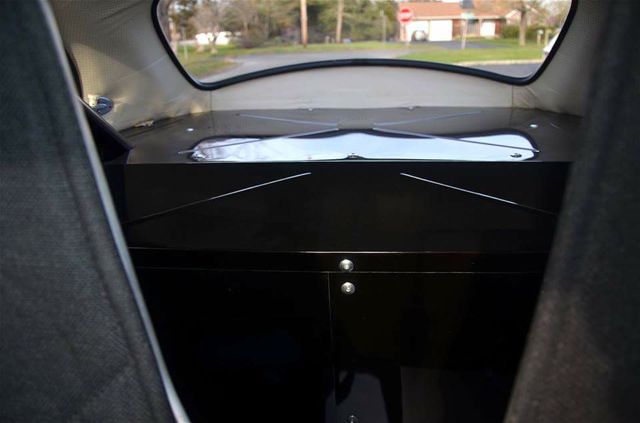 Peeking in the back seat area though the story starts to turn...something tells me that there is something interesting behind this black box.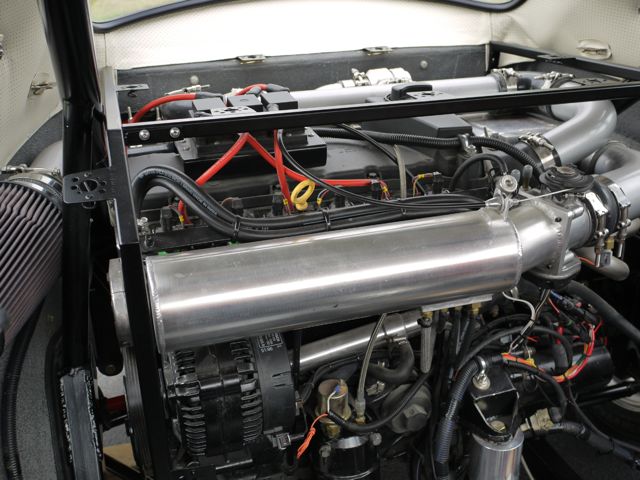 With the covers off, the truly unique part of the car is revealed.
This is no normal air cooled 4 banger out back!
This is a water cooled VR6 VW engine!!
The basic drive train consists of a Turbo charged 12 valve VR-6 engine,
with a T3-T4 60 trim turbo with an air to water intercooler.
Which runs on a Megasquirt 2 engine management.
Engine HP is about 325 running on 10 pounds boost, can safely go up to about 375 with more boost.
The transmission is a O2A with a Peloquin posi diff, it has Porsche 930 cv joints with sway A way axles.
The chassis is a Dave Barrett front half buggy chassis with owner built rear half.
With custom rear control arms and bearing carrier.
The front axle is a VW adjustable beam.
Bug has 4 wheel adjustable brakes with Willwood custom master cyclinders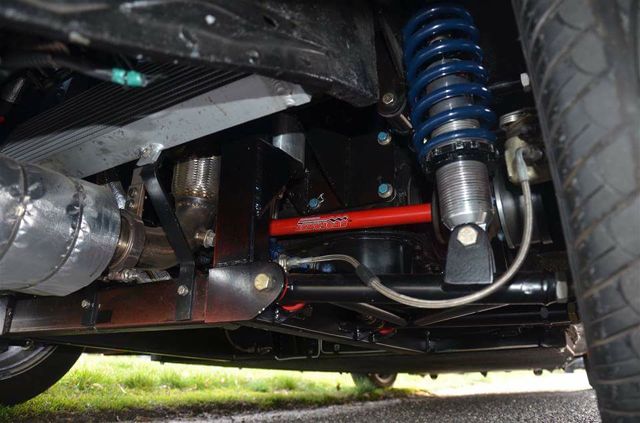 The fabrication involved with the install is very very clean and professional.
This is no backyard hack job here.
Look at how tidy this all is.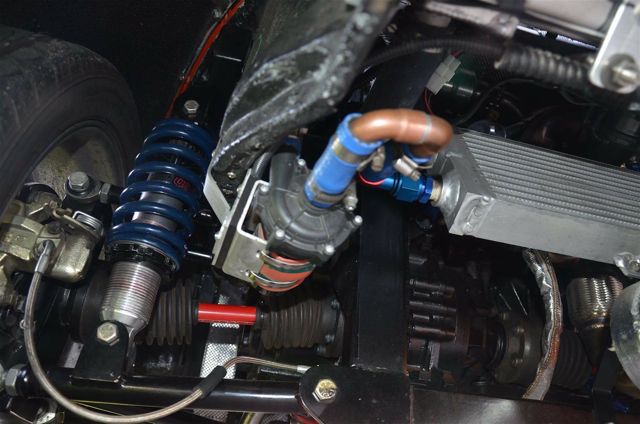 Super clean! The car has been driven as well...it has been on the road for about 5 years since completion and has
about 4000 miles on it already...so it is not a trailer queen!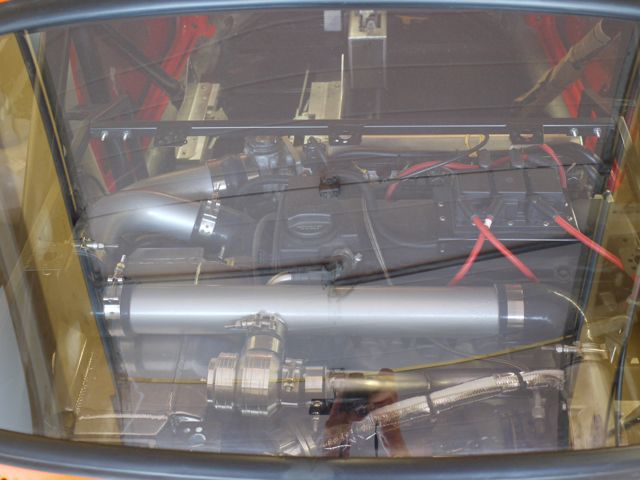 Peeking through the rear glass when the covers are off...you can see the magic on display.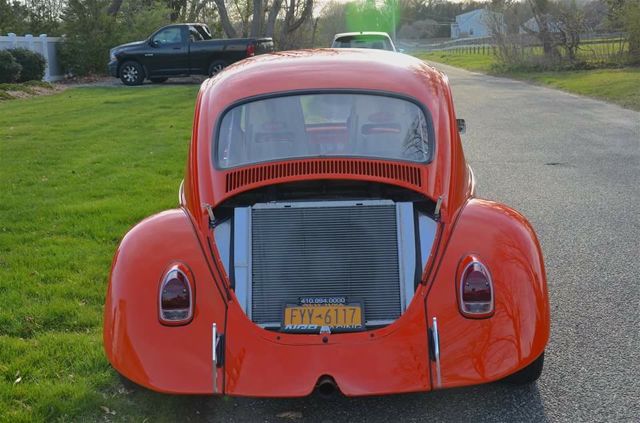 Out back you can see the 4 1/2" widended rear fenders and the radiator set up.
With the lid off it runs cool in all weather, even the hottest of days.
There is a painted engine lid that comes with the car and fits with stand off pins at the top that allow the air to
still come in. The owner has run it with the lid in place and had no issues but prefers to run it as seen here
to make certain proper airflow is acheived.
I love the center exit exhaust as well...very smooth.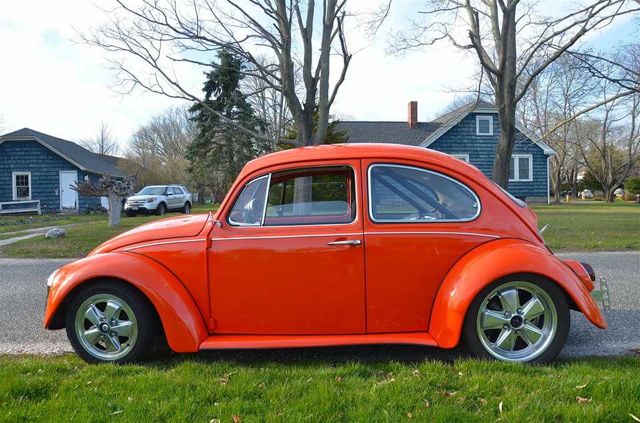 The Hugger Orange paint is the first eye grabber...but as you look closer into this wild beast you realize that this
is truly something special. The owner has put an impressive amount of time and engineering into this car
and the finished product is super clean. It really seems a bargain at the asking price!
Asking
$13,700
---
For More Info ... CALL
951 767 1600
or Email oldbug@earthlink.net


---